Museums are no longer traditional show-and-tell spaces. Innovations in technology and social media behaviours have transformed visitors' expectations of their museum journey. Visitors now want to connect with the museum and with other visitors on a more personal level, cultivating a community that is uniquely connected in the digital world — something that was never possible before the widespread of social media sharing and other enabling technologies.
Below, we discuss our 5 picks.
Including visitors in the conversation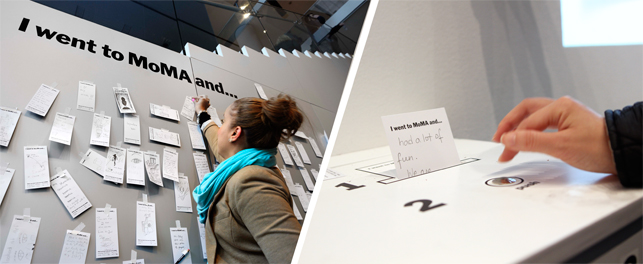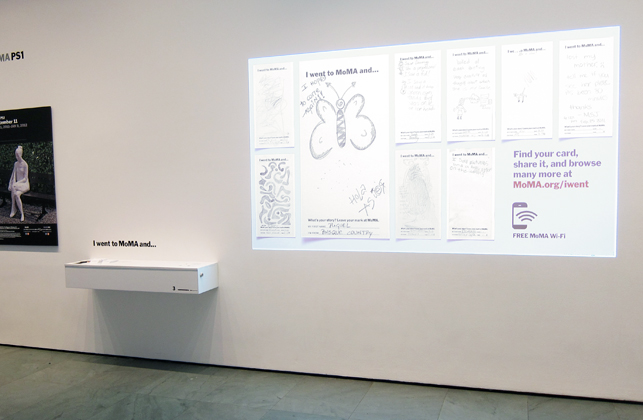 "I went to MoMA and..." at MoMA, New York
"I went to MoMa and..." is one such example where a simple experiment gave birth to an unexpectedly successful campaign that everyone wanted to be a part of. This simple, inexpensive concept that allowed people to share their experiences resulted in diverse and creative answers from eager visitors all over the world.
The sense of community that emerged from this museum campaign mirrors the appeal of Pont de l'Archeveche (more famously known as the "Love Lock" bridge). Given the right opportunity, visitors often include themselves in the conversation to share their own unique experience, and fascinatingly - to read others' experiences.
For museums, not only does this have the potential to boost engagement and dwell time, but it's an invaluable opportunity to collect authentic, voluntary feedback from visitors - the experiences that they actually feel compelled to share, not just answers to a structured survey.
Including visitors in the museum conversation flips the traditional interactive model around. Visitors are no longer passive consumers but become active, willing participants who define their own journey and allow their identity, at the museum, to emerge.
"What does participation mean to you?" at The Tanks at Tate
Making sense of the senses
At the Museum of Art and Design in New York, "The Art of the Scent (1889-2012)" exhibition is in a seemingly empty gallery, that requires visitors to use their nose. The sense of smell may not be effective at conveying intellectual content, but it is powerful in provoking memories and emotional responses.
Touch and movement are embodied in Takahiro Matsuo's ethereal light installations. His interactive Aquatic Colors installation emulates a glowing, underwater sea of jellyfish that respond to movement - a unique experience that would be difficult to communicate with words alone.
Obviously not all museums are at liberty to use touch or smell in their exhibits, but being clever with audio tours can be just as effective.
At Maitland Gaol, visitors listen to "harrowing tales" from the perspective of ex-wardens, the people responsible for operating the facility. At a place with vibrant history and accounts, this form of storytelling communicates ideas in a real, authentic and engaging way.
Using different mediums, or encouraging visitors to explore in unexpected ways, can in turn change how visitors interact with and interpret what's around them. It can also minimise cultural and age barriers present in traditional exhibitions - bringing everyone to the same level. Museums should explore any opportunities to add an element of discovery back into visitor experiences. Even if using touch or smell isn't feasible, it could spark another conversation on how information can be communicated differently.
Make the time to play
Children have a fascinating view of the world, and it can be easy to forget or overlook that curiosity can be the key to learning and for meaningful engagement with younger audiences. That's one of the many reasons why games have their own place in the museum.
Australian Museum's 'Trailblazers' treasure hunt app, powered by Beaconmaker, is a location-based game, using beacons, which required visitors to collect key items for a trip. The museum's user evaluations revealed positive results and high levels of engagement: visitors played the game for over 18 minutes on average and 28% of visitors surveyed completed the game twice. Tate Trumps is a unique digital card game to be played onsite at Tate Modern that encourages visitors to roam the museum to find the artworks that would be good in 'battle' or fit a certain mood.
Effective museum 'games' allow visitors, particularly younger audiences, to interact with exhibits in a new way to make learning an enjoyable experience, without distracting from the intention and message behind the exhibit.
To selfie or not to selfie?
Allowing museum-goers to take selfies has been a controversial topic for many museums. There's a right time and place for the selfie and it can be construed as a sign of disrespect in many museums. But at the same time, other numerous museums have found that the selfie does fit into the experience and have embraced it, even encouraged it:
The changing nature of museum selfies reflects the changing nature of the museum experience. Technology has been a significant driver in shaping how visitors interact with the museum and with artworks. Equipped with smartphones, visitors become the bridge between the museum and the outside, mainly online, world, sharing their story not only with their immediate friends and family but with a global audience through tags, hashtags, check-ins and other social media features.
As visitors insert themselves into the artwork, they reveal something unique about how they see the world. It is, without a doubt, a form of engagement that is grounded in social sharing and networking. One popular example is The Broad's Infinity Mirrored Room by Yayoi Kusama is a popular exhibit that is also commonly shared on Instagram.
The dilemma for museums is whether they should be excited about this opportunity to tap into millennial engagement and adapt to the changing behaviours and expectations of visitors, or disregard it as a hindrance to the intended experience.

Digital interaction
Perhaps the most obvious form of interaction is of the digital kind. In a similar vein to museum selfies, digital interaction is an example of how museums are adapting to changes in technology - without compromising on the learning and educational component.
Some museums present digital labels or touchscreen tables as a solution that complements their exhibit, others - such as MONA - effectively rely on technology as the only way that visitors can engage with artworks.
One notable example is the Cooper Hewitt Pen which visitors use to 'collect' or 'save' objects around the gallery. Using interactive tables at the end of their visit, visitors can explore in further detail the objects that they saved and even view them later online after the visit.
There are countless ways to make your museum exhibition interactive — in this post, we discussed a handful of notable examples that have seen successful implementations in other museums. Engagement has taken on a new meaning in museums over the past few years, given the rapid advances in technology and changes in visitor behaviours, but embracing this shift does not have to mean compromise. Instead, embracing it can pave the way to more opportunities for learning and a sustainable future.